BEARD SPEAK.
By Gilbert and George RA
Not for sale. This work is currently exhibited at the Summer Exhibition in Gallery IX of the Royalk Academy of Art in London. Click here to see a close-uo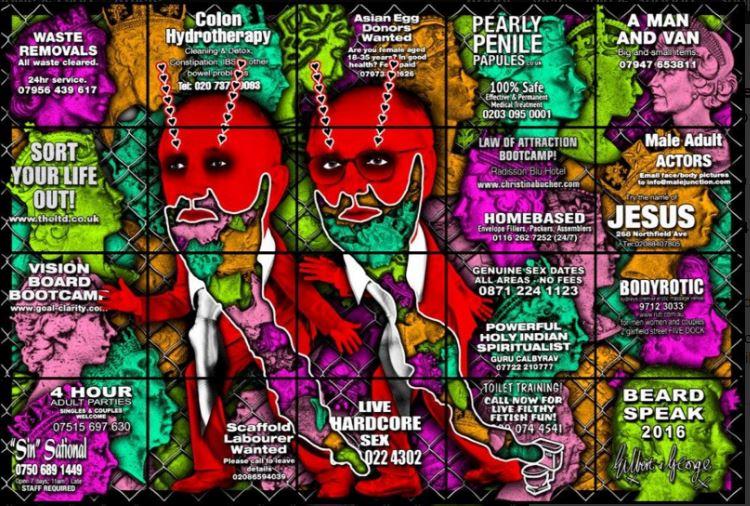 So... here I was, suddenly finding myself in front of this intense collage at the most prestigious London art show of the year. If you have a few minutes, browse through the art work, just to see the scale and the variety of the 1,000 works selected from the initial 25,000 submissoins.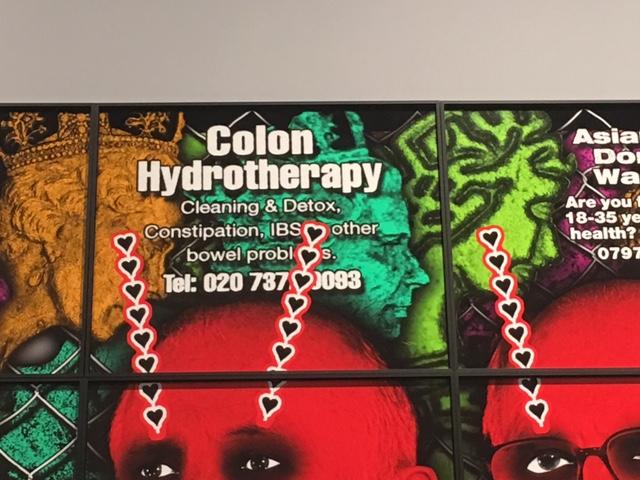 It is quite impressive that this associative collage by Guilbert and George has made it into the final cut It is HUGE - 254 x 375 cm, or over 8x12 feet and 3 inches thick. So what have the artists associated the most closely with colonics?
Well, we have, predictably, a waste removal company on the left of the colonics panel, and a request for egg donors on its right. Remove what's clogging up your life, then cleanse, then procreate. Diagonally left and diagonally right there are invitations to a vision board boot camp and to the law of attraction boot camp. I have found the latter two quite interesting. Allopathic medicine never connects internal hygiene with spiritual growth. In fact, spiritual growth is well outside the remit of Western medicine. But the two quirly artists seem to have no problem with understanding this spiritual connection between cleansing your gut and retuning your vision of life.
Enjoy the quirly art, and the last of the summer sunshine!