Deep cleansing 5L Home Enema - now available from us!

I have a feeling that it's going to be a very good year. People are becoming more self-reliant, and many more of our customers are pro-actively seeking their own health solutions. They create their own health maintenance systems, that work for them.
For many, this includes undertaking regular rehydration and bowel cleansing. Colon hydrotherapy is probably the most effective way of achieving this. Enemas also play a part. I aim to have around six to eight colonics a year. However, as I grow older, I am finding that this is not enough for maintaining the level of hydration at which I feel comfortable and energised. I also find, however, that having colonics more frequently, than, say, every six to eight weeks is too aggressive. On the other hand, a 2L enema does not feel enough. It is sufficient for removing the wastes, but not good enough for just letting the water flow in, slowly and gently, to help rehydrate the cells. I have been looking for a middle ground for a long time.
I am happy to say that I have found it now. It's a 5L enema, with an easy flow control and enough water for both the cleansing and the subsequent rehydration. We now stock them here:
https://www.colonicsupplies.online/five-litre-white-plastic-rigid-enema-kit-with-tubing
It is very reasonably priced at £41.40 for the whole set, and if you add it to your regular disposables order, in most cases you won't pay anything extra for delivery.
TO MAKE IT EVEN MORE ATTRACTIVE, YOU CAN BUY IT WITH A 10% DISCOUNT TILL 31 JANUARY!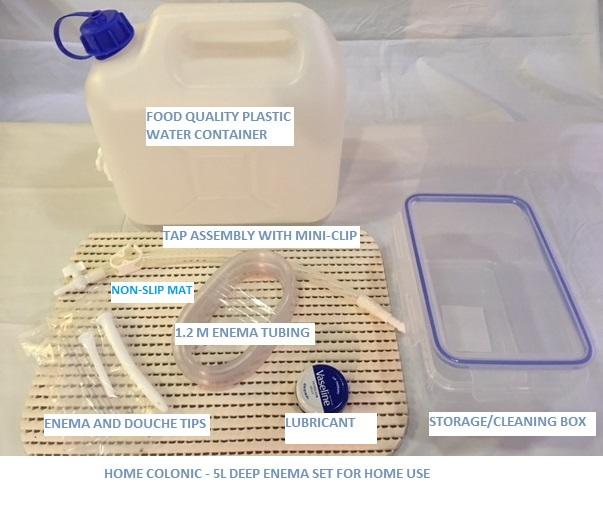 Till we meet again,
Galina