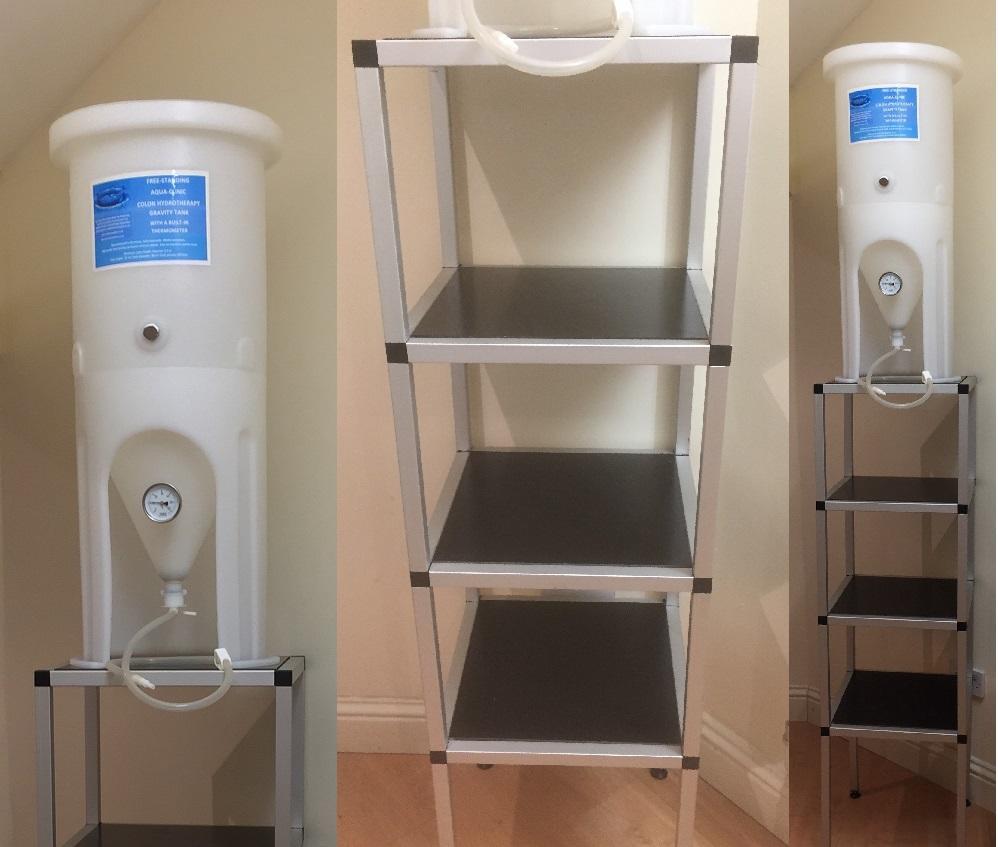 We supply a gravity colonic system. The tank and the stand are also sold separately.
What is a Gravity colonic system?
Water enters the human body through a speculum attached to a tube that is attached to a tank filled with water. The tank is positioned around 600 mm above the point of entry. Water gently flows down the tube under the force of gravity. This is why this method is called Gravity Colonics.
Who invented a Gravity colonic system?
It was, apparently, Dr Wood who lived and worked in the USA last century, However references to water cleansing the body from a sac attached to a tree can be found in holy books of many religions. As Dr Wood was the one who promoted this method, Gravity colonics are often referred to as Wood's Gravity method.
What is your gravity tank made of?
The tank is made of food quality polypropylene that is resistant to solvents and suitable for many years of use. it is CE marked for this purpose.
Why does the room need to be 2.4 m high?
This will enable you to have the correct distance between the tap and the treatment table. This distance (around 600-650 mm), in combination with the standard 8 mm (internal) diameter of the inlet tube ensures a safe comfortable water flow rate.
Whats is WRAS?
Water Regulations Advisory Scheme in the UK. Its purpose is to protect public water system from contamination by a private installation.
What does "WRAS-compliant" mean?
In the case of Aqua-Clinic gravity system, it means that a 2 inch air gap is provided within the tank so that nothing from the tank could ever get back into the water main under any circumstances.
Where is it?
The tank kit includes:
One 30 L tank, dimensions: Diameter: 38 cm Height: 87 cm

1m of silicon inlet tubing

3 assorted barbed reducing connectors

Inline tap for 6 mm inlet

12 mm ratchet clamp for 8 mm inlet

10 Treatment kits

Autostop water inlet valve

21 mm overflow connector

Stainless steel forceps

Detailed installation instructions with photographs
As you can see from the list, it is supplied with your tank. You need to install it to the opposite side of your water inlet in accordance with the instructions supplied. As we don't know what side your water comes in, we are leaving it to you to set your tank up in accordance with the design of your treatment room. We can customise/pre-drill the tank for you, but in this case we won''t be able to take it back if you have made a mistake or changed your mind.
What else will be required for a gravity colonic system?
You will need a two-stage filtration system, a source of blended water and a strong shelf. We can supply all these for you.
What kind of thermometer is supplied?
We supply an approved analogue dial thermometer. All major colon hydrotherapy equipment manufacturers (Aqua-Clinic, QMS, Prime, HydroSan, Dotolo when they operated, etc) use analogue thermometers. As these thermometers don't have batteries, they don't need to be re-calibrated every time there is a battery change. Their display screen does not go wrong. Their error tolerances are the same as those of digital thermometers.
Is it true that a gravity kit requires two thermometers?
If you use digital ones that seem to be less reliable than their analogue equivalent, then may be having a spare makes sense.
Do you need a secondary non-return valve in a gravity kit?
You don't need it for WRAS compliance but it won't do any harm. We can supply it too, and you need to install it above the enema inlet. When you mix water with herbs it becomes non-wholesome, in WRAS parlance, and the secondary non-return valve must be installed above the mixing point. We know that some manufacturers recommend installing that secondary valve below the enema. This does not comply with WRAS. But again, it is a secondary device and is not necessary.
Are there other tanks on the market?
You can use any fully drainable vessel, as long as you are comfortable with the fact that it is suitable for multiple uses and is made of a non-corrosive material. Our tank is safe, elegant, modern and comes with the benefit of our experience and advice.
What system do you recommend: gravity or machine, open or closed?
This will be subject of our next few blogs. So watch this space!