What are the true benefits of colon hydrotherapy?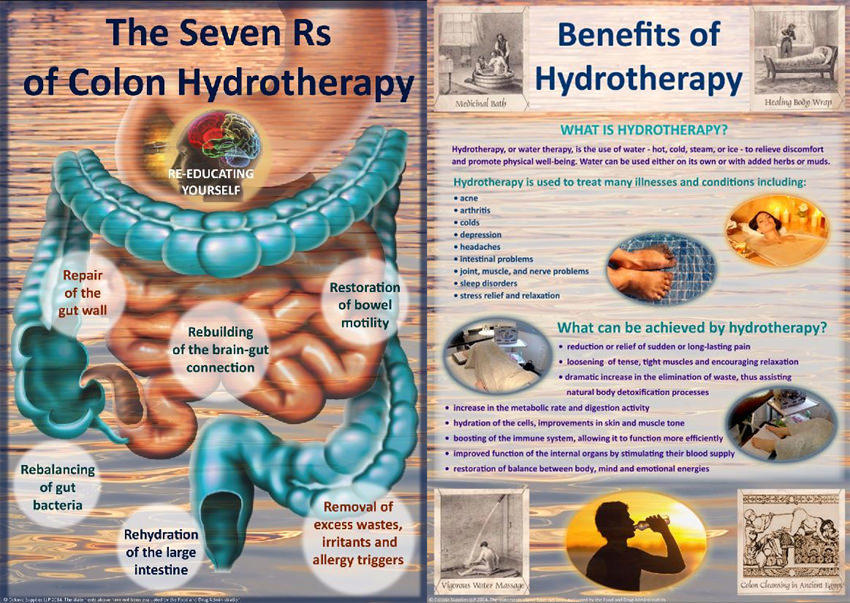 Benefits of Colon Hydrotherapy. These posters are available on our website here
If you ask any conventional doctor who is open to the idea of colon hydrotherapy, they could say that it helps regulate the bowel function and reduce constipation. If you ask a naturopath, they would probably say that it increases cell rehydration. If you ask a bodywork therapist, they would say that it reinforces awareness and mind-body connection. If you ask a colon hydrotherapist, they would say that it rejuvenates the colon.
Virtually all benefits of colon hydrotherapy start with "re", a Latin prefix which has two meanings: first - to indicate repetition, or second, indicating withdrawal:
restore bowel function;
rehydrate the colon;
rejuvenate the digestive tract;
remove excess wastes;
rebuild brain-gut connection;
rebalance gut bacteria;
repopulate with gut bacteria;
repair the gut wall;
restore bowel motility;
reeducate the bowel owner;
increase bowel regularity etc.
So looking at this list we can see that colonics take away the excess (wastes, bacteria, yeasts, gases, plaques) and compensate the deficiency (hydration, motility, beneficial bacteria, mind-body balance).
In this sense, colon hydrotherapy is cathartic, deeply cleansing, rebalancing and liberating, like a good massage, a good book or a good cry.
If you have enjoyed looking at the above posters, you can have them in A4 format free with any order till 31 May 2017. To claim, add "Benefits posters please" in the comments field of your order.